Our pets are like family, and we all want to know that we're providing the best possible care to our four-legged family members. Choosing the right food to feed your cat has lasting implications in nearly every area of their lives, and to help you feel confident in your decision to feed TLC, we're laying out answers to your most important and commonly asked questions. 
1. Are your formulas developed by a qualified nutritionist?
YES. All TLC Pet Food has been carefully formulated by professionally trained nutritionists with Masters degrees in Animal Science and Nutrition.
2. Are your diets formulated to meet AAFCO nutrient profiles?
YES. 
TLC Whole Life Cat Food is formulated to meet the nutritional levels established by the AAFCO Cat Food Nutrient Profiles for All Life Stages.
3.  Do TLC formulas undergo feeding trials or testing?
Yes. All TLC Whole Life Pet Food undergoes comprehensive analysis completed by independent laboratories, including feeding trials following AAFCO guidelines. 
4. Where is TLC Cat Food produced?
TLC Pet Food is produced in a plant located in Ontario, Canada.
5. What kinds of quality control measures are used to ensure quality and consistency in your Whole Life Cat Food formulas?
Our plant is fully committed to a stringent and scheduled set of quality and performance standards. All ingredients brought to the plant undergo careful inspection and testing and can only enter the plant once approved. Quality and safety assurances are continued throughout our food's cooking process and packaging, helping safeguard against potential cross-contamination. TLC's plants are USDA, FDA, and CFIA certified, with government-certified in-house laboratories, testing for vomitoxin, aflatoxin, and Enterobacteriaceae, along with NIR (Near Infrared) confirmation of nutritional integrity. 
6. What is the caloric value of your food by different units of measure?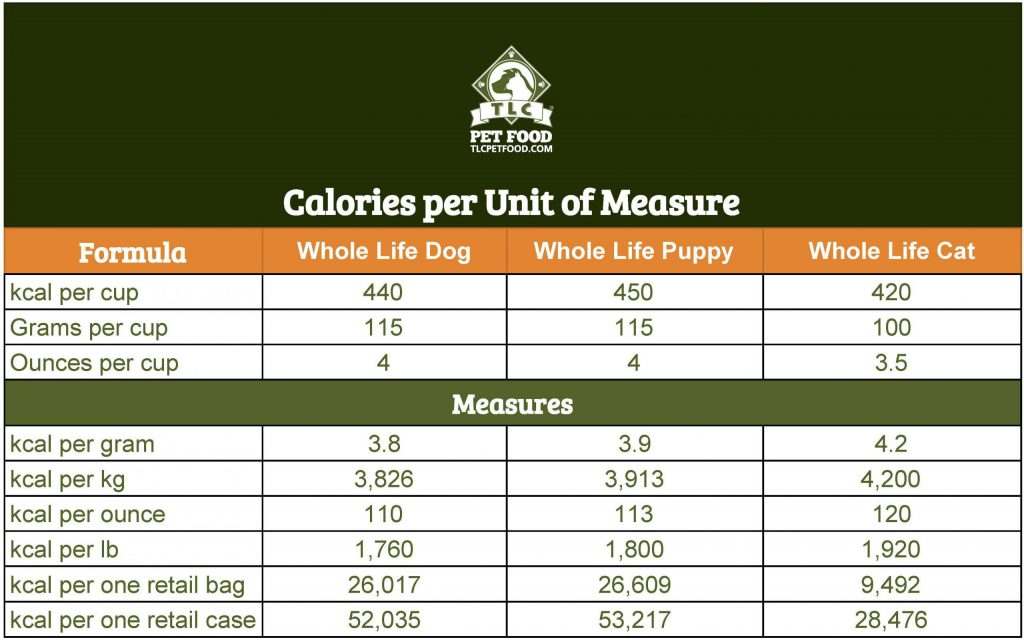 7. Is TLC Cat Food "grain-free"? 
NO. TLC Whole Life Pet Food includes ancient whole grains rich in vitamins, dietary fiber, and essential amino acids. Unfortunately, many grain-free formulas replace whole grains using vegetable-based protein sources and wind up reducing the amount of quality meat-based protein in the formula.
8. What Protein Sources Are Found In TLC Whole Life Cat Food?
All TLC Pet Food has been formulated with your cat's ancestral diet in mind. TLC uses high-quality meat-based protein sources like Atlantic Salmon and farm-fresh chicken.
9. Are Any of the Ingredients Found In TLC Sourced From China?
NO. Every ingredient found in TLC Pet Food has been carefully selected from trusted sources and farms in Canada and the U.S. except for our lamb, which is sourced from New Zealand and chosen for its superior quality, and Atlantic Salmon, which is sourced from a sustainable fishery out of Norway.
Still, have questions? Our knowledgeable Pet Service Team is always happy to help you find the information you're looking for. Please feel free to email petservice@tlcpetfood.com or phone 1-877-328-8400.