Designed to give your expert recommendation to feed TLC a little more "bark"; Pet Manager is simple to use with exciting results. Aimed at committed breeders looking for more referrals, improved retention, and increased rewards, Pet Manager:
When you add Pet Parents to Pet Manager, TLC will send the links to your personalized web pages right to their inbox, providing them $5 off their first order and the chance to claim a FREE gift. You can then track your referral in Pet Manager to see if and when they have created a TLC account, placed or scheduled their first order and whether they've opted into Autoship.
How Do I Create a new litter?
If you would like to create a new tag for a group of referrals, go to your Pet Manager tab and select the "Add A Litter" button:

The process of creating a new litter is made to be as easy as possible. 
Litter Name: the label you will use to organize this group of pet parents (formerly known as Litter Name)
Number of Pet Parents: How many pet parents will be bringing home puppies from this litter/tag
Number of Pets: Number of puppies/kittens born. There can be scenarios where eight puppies are born, and only six are given to pet parents.
Recommended Formula and Frequency: This will auto-fill from your breed profile.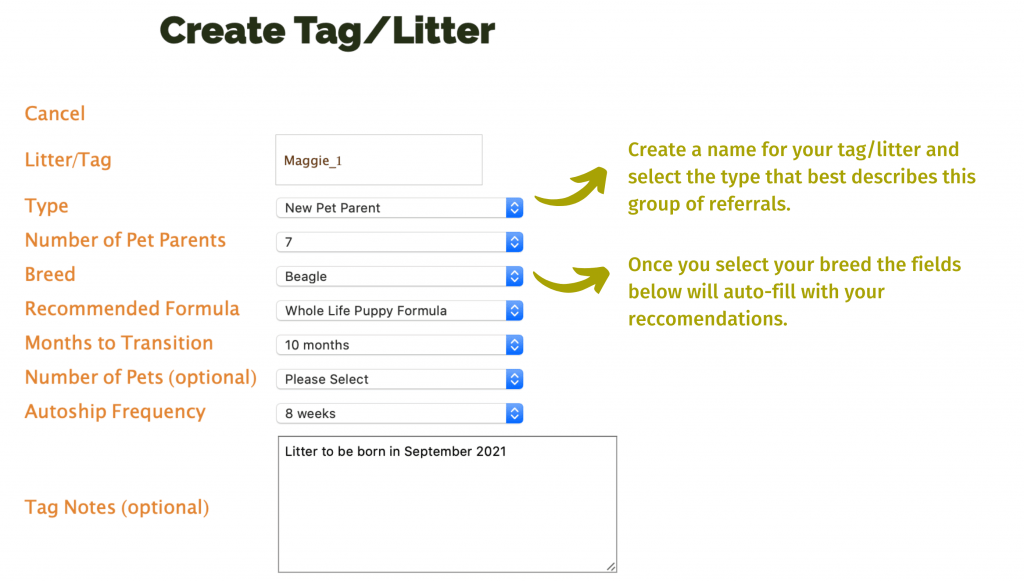 Your new litter can now be viewed in Pet Manager, and you will have the ability to add each of your pet parent's information.
Where can I find my past tags/litters?
Once a tag is created, you will find it in Pet Manager, searching for the litter name in the search bar or using the filters to view a specific litter. Your recent litters will automatically display on your main Pet Manager page. 
New pet parents will remain visible in Pet Manager until the tag they are associated with has closed. A litter will remain open until ALL referrals have been added (or removed) AND 30 days have passed from the last Go Home Date associated with the tag.
Contacts remain visible in Pet Manager for 30 days from the date added.